333507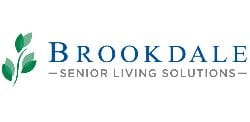 Independent Living
Brookdale's independent living communities nationwide create senior living solutions by providing special places for people who want a lifestyle that removes the hassles and adds what's truly important. These communities are designed for people who choose to pursue their lifelong dreams in an engaging social environment.
As a Brookdale resident, our promise is to help you navigate the experiences of senior living in all the places life leads you. In Brookdale's Independent living communities you will find spacious apartments, elegant common areas and numerous services that assure your comfort and satisfaction: truly, active senior living that inspires and fulfills. The Brookdale difference is evident in signature programs and services that are available only to Brookdale retirement living residents.
Assisted Living
Our Assisted Living Facilities are available in Brookdale's freestanding senior living communities, and as part of a full continuum of care on a single campus. The Brookdale approach provides services that are tailored to each individual's unique needs, a way of life created to enrich the lives of others – with compassion, respect, excellence and integrity. In this way, we can make daily life easier for our residents, by offering the desired service and care as their needs and preferences dictate. By customizing personal care offerings for the individual, we help to ease assisted living residents through lifestyle transitions that complement their vision for all the places they would still like their lives to go.
An Assisted Living community assists residents with activities of daily living and basic care support in a homelike or apartment setting. Residents receive three meals a day, recreational and social activities, housekeeping, linen service, apartment maintenance and transportation.
Trained caregivers provide attention and assistance with medication management, bathing, dressing and cooking 24-hours a day. In addition, staff will coordinate services with outside healthcare providers and monitor residents to ensure they are healthy.
Brookdale's Assisted Living communities provide solutions for those in need of limited care. Our customized assisted living communities approach focuses on:
Being a trusted partner
Listening to your needs
Understanding the life you want for yourself or your loved one
Customizing a solution that puts that life within reach
Memory Care communities, which include Alzheimer's care and Dementia care facilities, consist of specially designed living spaces and supporting environments for those who are living with cognitive challenges brought on by Alzheimer's care and dementia. These may include carefully considered flooring to reduce problematic patterns for those with Alzheimer's or dementia and wall colors that help them to find the way. The dementia care environment helps cue its residents in their daily lives. Areas of the community are set up for safe engagement in activities such as gardening, kitchen work, and other life skills that provide purposeful and meaningful successful moments.
Category
Assisted Living